Colleges and Universities
The primary goal of OpporTUNEity® is to bring music learning opportunities to children in underserved communities, where resources are limited and poverty is high, while engaging undergraduate students in life-changing and potentially career defining teaching experiences. Within the scope of a K-16 framework, this is done by aligning the program with the mission and vision of colleges and universities, utilizing the resources of institutions while engaging college undergraduate music majors with teaching opportunities in the community. To these ends, we measure our impact through targeted music engagement, civic learning, and career readiness outcomes.
In order to best guarantee positive and impactful experience for undergraduate majors, we follow pedagogical best practices for service learning and civic engagement in higher education by implementing research based practices that include a comprehensive assessment and accountability system. Each semester, all college undergraduate students are required to attend an orientation session that focuses on the needs of the children enrolled in the program, legalities and ethics, pedagogical content, and other topics that are particularly relevant at the time.
Objective 1: Music Engagement.
Strengthen engagement and capacities of future music educators, music performers, and music therapists by using innovative, arts-based teaching and learning strategies with elementary, middle and high school students.
Objective 2: Civic Learning.
Utilize music as an educational tool for improving and building civic understanding and social justice in the classroom and private lesson settings, and throughout the undergraduate experience.
Objective 3: Career Readiness.
Develop career readiness skills, through community engagement and service, as participants become successful and innovative music professionals.
OpporTUNEity has been a breath of fresh air on this campus. Not only does it connect in the most vital ways with the college's fundamental mission, but it takes the college-students, faculty and staff-out into the community to directly engage in transigent social problems in ways that are really beginning to make a difference. This program is setting the pace for the faculty when it comes to service-learning and it has been an impetus for so many other new projects and initiatives. On a personal level, seeing the faces of those kids succeeding at something very challenging, supported by the pride of our students who are helping to make it happen; well for me that takes higher education to a whole new level!
Dr. Ted Brown, Former MMC President /Read Full Article
k-12 schools
We team up with institutions of higher education to bring high quality engagement programs to partnering K-12 schools. To accomplish this, we build partnerships, establish training programs, leverage institutional resources, and implement the OpporTUNEity® model in our partnering schools. We hold a zero tolerance policy as we prioritize Academic, Behavioral, and Music Performance outcomes four the youth enrolled in our programs.
All children selected by partnering organizations to participate are expected to maintain a drug and alcohol free lifestyle; maintain at least a C GPA; pledge to stay in school; show a commitment to learning and excelling on their instrument; attend all supervised practice sessions; participate in all end of semester outreach performance events; and participate in their own small service learning projects that will be designed to provide opportunities for them to give back. To these ends, we collect and maintain extensive data related to behavior and academics, attendance and retention, school improvement, coordination and participation, music curriculum and state standards.
Objective 1: Academic.
Increase academic achievement by leveraging OpporTUNEity's ® standards and expectations of commitment, attendance, and mentorship.
Objective 2: Behavioral.
Improve behavioral outcomes by leveraging OpporTUNEity's ® standards and expectations of commitment, attendance, and mentorship.
Objective 3: Music Performance.
Provide opportunites and access to the field of music through high quality instruction, performance, and outreach opportunities.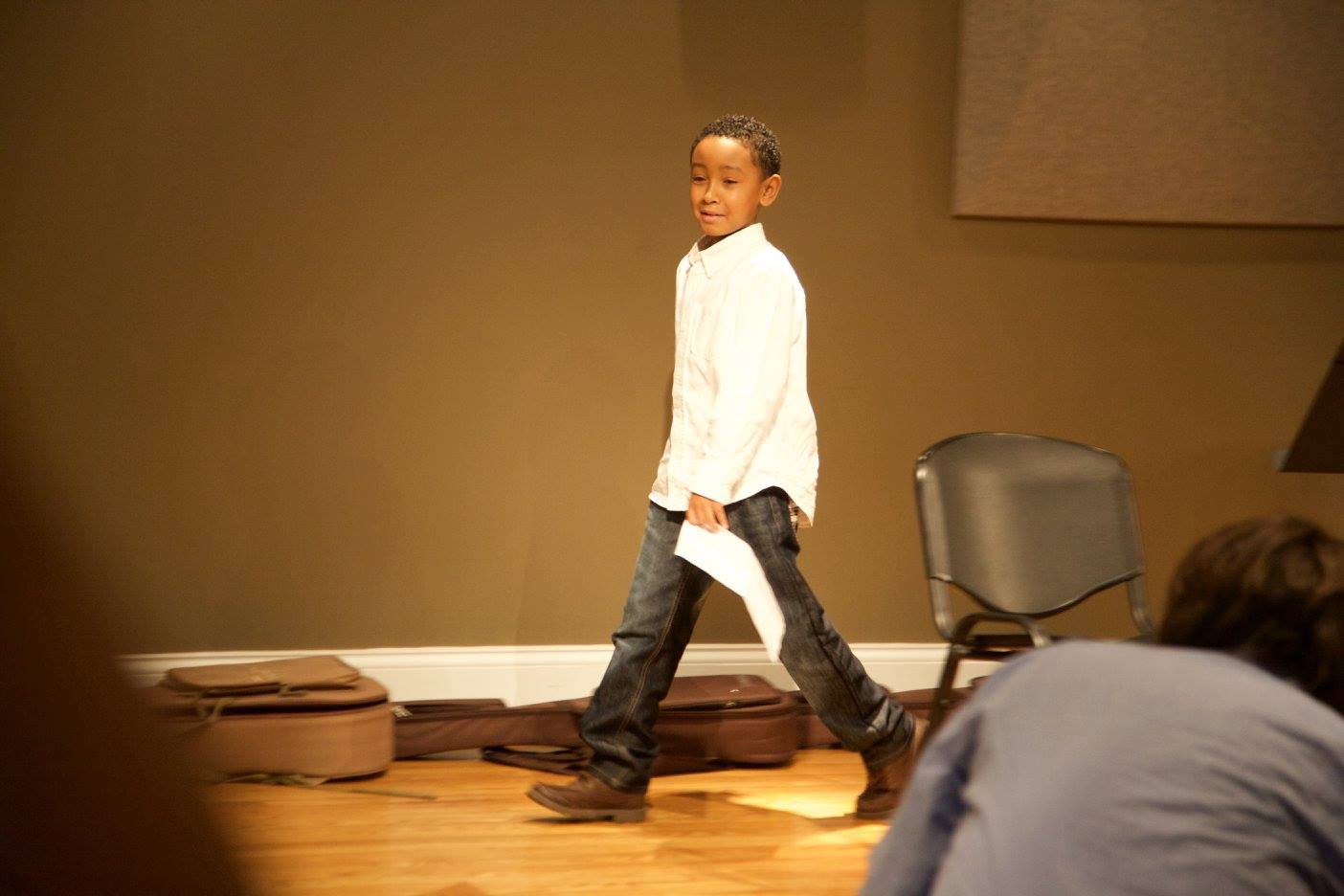 Why I Like the Piano. Because I want a scholarship. Because I can be a professional. Because I get rewards for doing this. Because it makes me happy.
OpporTUNEity® Student, 2013-2017